Is a tiny house right for you?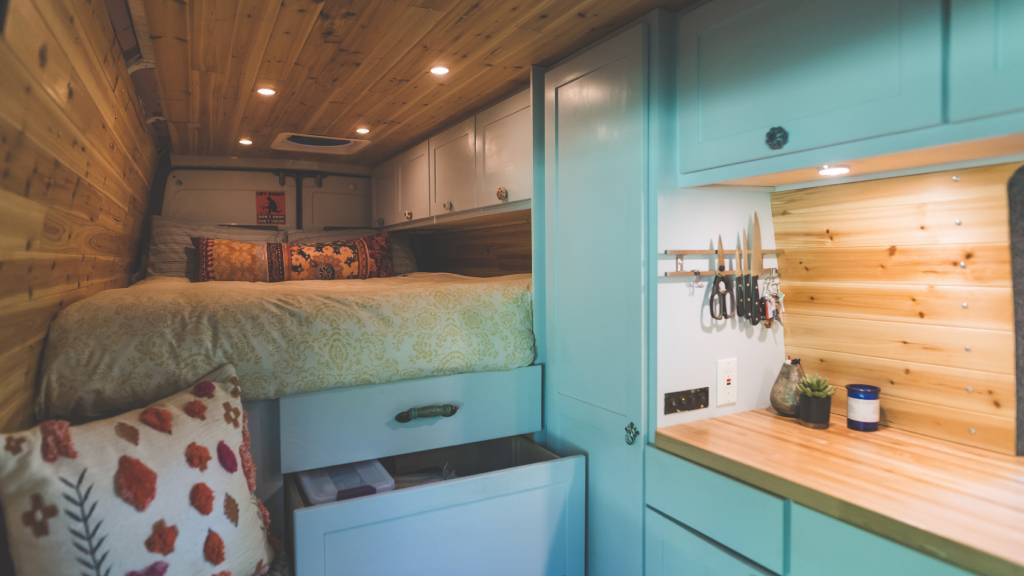 Between New Zealand's housing crisis, our cultural enthusiasm for trying new things, and our preference for the practical, New Zealand has become a hotbed (perhaps just a double instead of a queen) of tiny houses.
These miniature homes can be the ideal option for many, offering an affordable and practical place to live that meets all their basic needs, while leaving enough cashflow to spend on things that bring a lot more enjoyment than a second living room.
So how can you decide if a tiny house is right for you?
The difference between a tiny house and an apartment or granny flat
An apartment or granny flat, while small, is still typically larger than a tiny house.
Apartments and flats can have up to three bedrooms, whereas a tiny house has just one bedroom. If you're expecting visitors, it'll either be the pull-out couch in the living area or a tent in the backyard – or perhaps simply a rental somewhere nearby.
Typically, a tiny house is just 20 to 35 square metres, whereas a granny flat can be anywhere up to 60 square metres. Aside from the size, a tiny house only comes with the absolute bare minimum, which usually means no luxuries such as dishwashers, storage spaces, dryers, or baths.
Additionally, many tiny homes are actually mobile. They are either built on wheels or designed to be moved, which means they are quite similar to caravans. This can also make it easier for tiny home-owners to avoid the usual regulations surrounding standard homes (more on that later!).
If you're happy to live in a small space without the luxuries of a larger home, a tiny house could be for you!
The cost of tiny homes
Arguably the biggest drawcard of the tiny home is the cost. Even when built brand new, tiny homes can cost around $100,000, a significantly cheaper price tag than a standard property.
For retirees looking to move with limited retirement savings, a tiny home could offer a comfortable and affordable option that doesn't require a large mortgage, and could even mean no mortgage at all.
For the rest of us, a tiny home can help to free up cash for other activities. For example, you might find yourself rattling around in a big family home after your kids have moved out, at which point it might be easier to sell up, buy something significantly smaller to live in, and spend the difference living a nomadic life or whatever other retirement plans you have.
Whether a tiny home is better for your budget or your travel plans, the cost could be a major deciding factor in your decision.
Tiny homes and regulations and compliance
Rules and regulations surrounding tiny homes can be confusing, and it largely comes down to whether it is technically a registered vehicle (and therefore exempt from the Building Act), or an actual permanent property that's subject to the Building Act.
For tiny homes that fall under the registered vehicle category, it can be no more than 11.5m long, 2.5m wide, and 4.3m high. It can also weigh no more than 3,500kg. To be a vehicle, the land transport act adds that it must be "equipped with wheels, tracks, or revolving runners on which it moves or is moved", which is why most tiny home builders will ensure it meets these requirements.
For tiny homes that are fixed buildings, it is subject to the Building Act of 2004. This means meeting all tenets of the Building Code, such as fire safety, energy efficiency, and durability, just like a normal house would. You will need to apply for resource consent, and adhere to any local council laws as well.
Right now, the rules around tiny homes are still in their infancy, and are notoriously confusing. Fortunately, the government has recognised the need and demand for tiny homes, and has set out to make the rules clearer around whether a tiny home is a vehicle or a building. To ensure your tiny home is on the right side of the law, be sure to check with your local council before making an investment!
A tiny home is just one option for your retirement plans and goals. Consider your insurance plans also such as funeral insurance.
22 Feb 2021