How much does a funeral or tangi cost?
Calculate the average cost of a funeral or tangi in your area – it's fast, free, and based on in-depth research by New Zealand Seniors.
Based on your selections, the average cost of a funeral will be:
This information is based on research conducted by CoreData, commissioned by New Zealand Seniors. These averages are provided for information purposes only and is not intended to be a recommendation to purchase funeral insurance.
Your optional extras selected
(select/deselect)
Total cost of optional extras
$0
The total optional extras are additional costs to the above base funeral costs
Funeral costs are on the rise in New Zealand
Our Cost of Death report shows Kiwis are paying more for funerals every year as the average price has gone up annually since 2011. Whether you're just planning for the essentials, or carrying out a traditional tangi, it's important to think about where the money will come from and how it can impact your loved ones.
Cremations are still the most affordable option but even a basic service can cost over $3,000 – a 36% increase in the last 5 years. Burial costs have risen by 34% in the same period – a basic service now starts at $6,000 while a full service is more than double that.
However, there are no set prices for a funeral; the total cost will depend on the exact service you decide to carry out as well as any extras you want to include. Looking at average costs in your region could help you set a suitable budget.
Looking out for those who matter
It's impossible to know when a funeral will need to be paid for, but there is a way to ensure your family will have help available when the time comes. Seniors Funeral Insurance provides a fast lump-sum payout of up to $30,000 to help loved ones honour your memory when you pass away. Your family can use the money any way they want, so they'll never have to worry about the impact of rising funeral costs.
Who pays for your funeral costs
When planning for your funeral, it's important to consider who would be paying for all the final expenses. Funeral costs, from casket and flowers to director and burial fees, can pose a significant financial burden to your loved ones at an already difficult time. With these costs averaging a total of approximately 10,000¹, it's worth thinking about who would be left to pay the bill.
Funeral Insurance can help cover your funeral and other final expenses, giving you and your family peace of mind.
How can New Zealand Seniors help?
Seniors Funeral Insurance pays a lump sum to your family (up to $30,000) upon your death for them to spend as they require.
Benefits of choosing Seniors Funeral Insurance
Choose a level of cover that suits you
Seniors Funeral Insurance pays a lump sum to your family from $3,000 up to $30,000 upon your death.
Guaranteed acceptance
If you're a New Zealand resident aged 18 to 79, you're guaranteed acceptance. No medical screening, complicated paperwork or blood tests required.
Quick payout to your family
Claims are usually paid within 1 business day of all completed documentation being received, so you can be sure your family has the financial help they need with little fuss.
Bonus Cover at age 85
Once you turn 85, you'll receive an extra 25% Bonus Cover on top of your cover amount, so you can enjoy even more peace of mind for the years ahead.
No more premiums after your 85th birthday
From age 85, we'll stop charging you for your cover so there will be no further premiums to pay.
Cover for terminal illness
Get 100% of your benefit paid if you are diagnosed with a terminal illness, helping you plan your final wishes without financial worries.5
Level premiums with no annual increase
With Seniors Funeral Insurance, your premiums won't go up every year, making it easier to budget for the years ahead.6
Triple benefit for accidental death
From the day your policy starts, your loved ones will receive triple your cover amount if your death is the result of an accident.
More control over your policy
Choose a payment frequency that works for you and your budget and list up to 5 different beneficiaries.
Early Cash Out Option
Once you turn 85, you can choose to end your policy and receive 75% of your cover amount paid to you.7
Guaranteed payment at age 100
When you reach 100 years of age, we'll end your policy and pay you 125% of your cover amount to spend however you wish.
Need more help deciding?
Request a FREE information pack
Everything you need to know about funeral insurance
Read what our customers are saying
4.6/5 from 1,445 reviews
Powered by
How can we help?
To find out more about New Zealand Seniors,
speak to one of our friendly insurance specialists now
Regions of New Zealand
Auckland - 1
Northland, Waikato, Bay of Plenty and Gisborne - 2, 4, 9, 14
Wellington and Surrounding Regions - 5, 6, 12, 15
Canterbury and the Northern Regions - 3, 7, 8, 13
Otago, Southland and West Coast - 10, 11, 16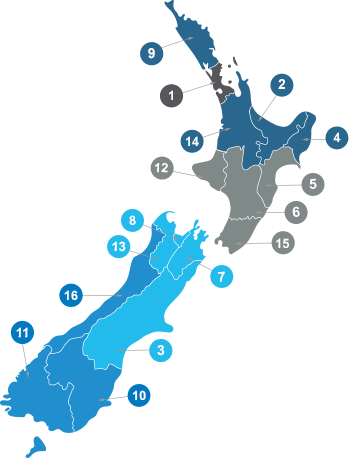 About the data
The Cost of Death report from New Zealand Seniors was developed in partnership with CoreData, a global research specialist in the financial space. The findings are based on information collected in 2019 over the main concerns Kiwis have around death and funerals, as well as the latest trends affecting their decisions.
New Zealand Seniors is a proud supporter of encouraging open and thoughtful conversations around funeral planning. Read the full breakdown of our latest report to find out how you compare with the rest of the country, or talk to us about planning a better future for your loved ones today.