The New Zealand Seniors: Cost of Death Report
No longer an event solely of mourning, funerals in New Zealand are changing. A celebratory theme where we remember the good times we've had with those who have passed is now often incorporated, and we're also seeing eco-friendly or 'green' funerals emerge. With so much changing and prices increasing, it's unsurprising that we now find ourselves more open to discussing death and dying.
The New Zealand Seniors Cost of Death Report and the Cost of Death Video explore the various costs of funerals through both an emotional and financial lens. The report, which surveyed New Zealanders over 55, found that we are embracing trends but also staying true to our core values.
The process starts with a willingness to discuss the fact that one day those we leave behind will be required to make arrangements for our funeral. Most of us (85.9%) are pretty comfortable talking about the subject of our own death but close to 9 in 10 of us also acknowledge there is a need to talk more about death and dying. More than 8 in 10 (82.9%) of us do not believe death should be a taboo subject, and most (67.8%) believe that talking about it is important to ensure that our wishes are met, as well as being a way of helping us come to terms with our own mortality (56.9%).
In addition, most of us (56.6%) believe that talking openly about our plans and wishes with family and friends is a good way to minimise the financial burden we can potentially place on them. While almost 9 in 10 (87.3%) of us think these discussions should take place privately among families, there is some support for wider and more open conversations, with more than a third (37.2%) of us saying there should be more information about death and dying made available online.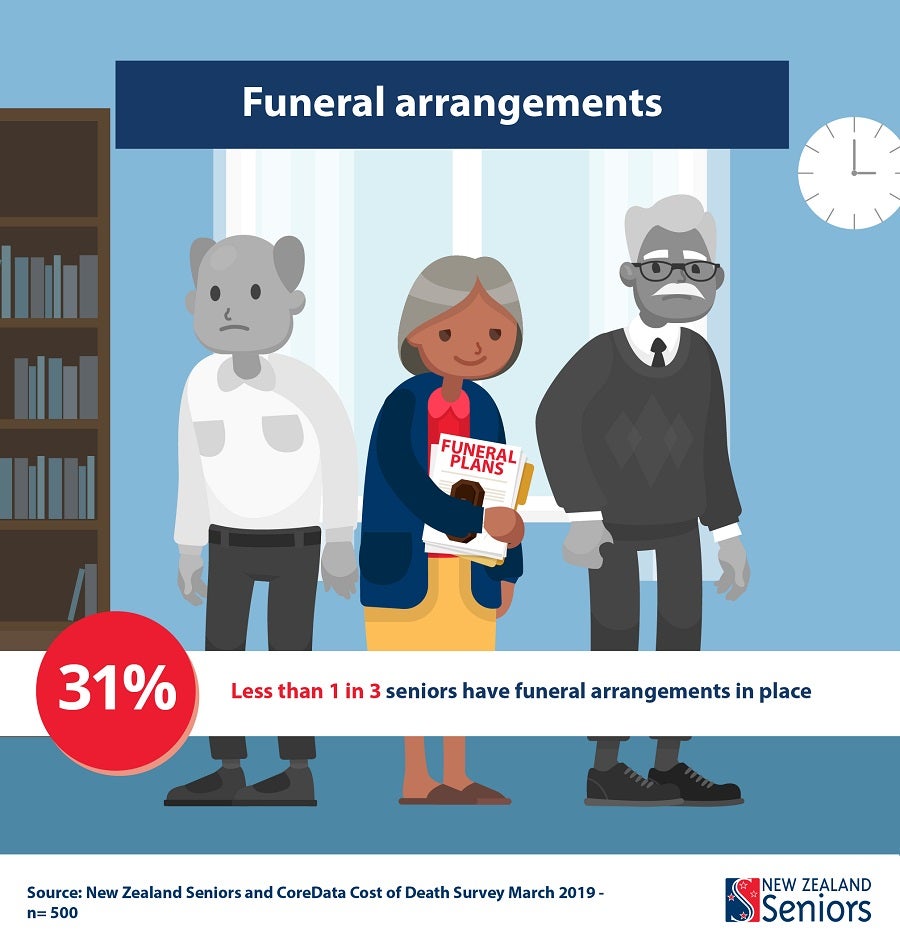 More of us could make plans now for our own funerals. Less than 1 in 3 people (32.1%) have made, or are likely to make, considerable or extensive funeral arrangements before we die. But we know we should be doing better as more than 2 in 3 people (68.0%) believe we should be doing more to prepare. This includes letting our family and friends know what our last wishes are.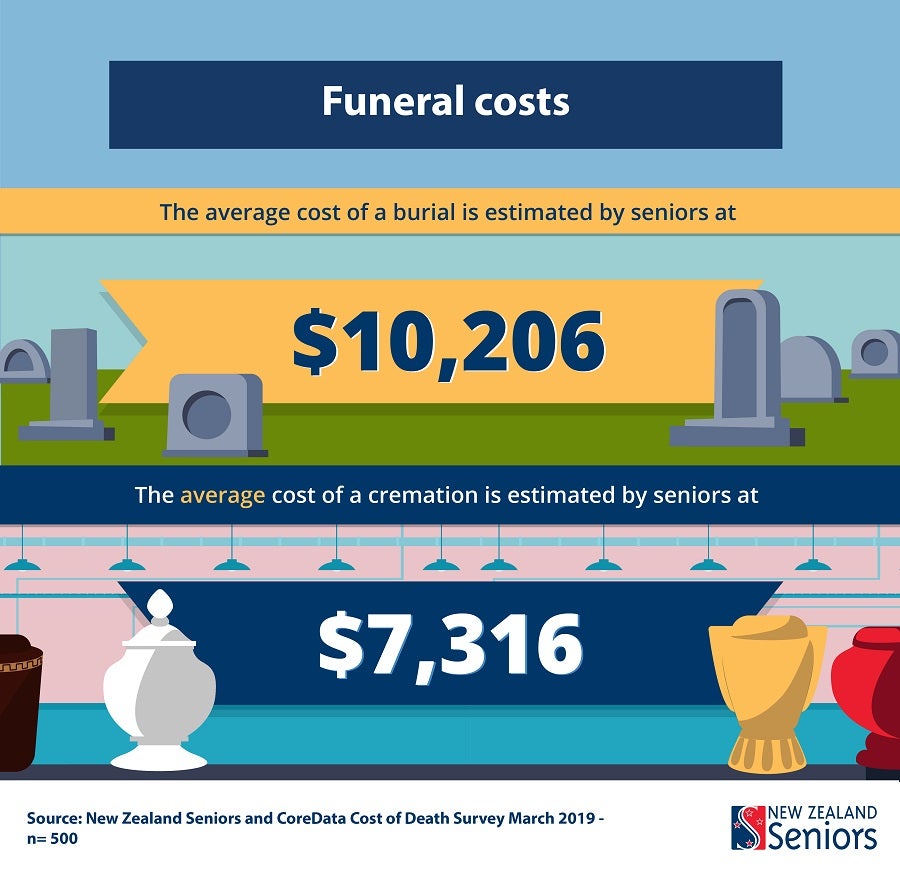 A funeral can be an expensive event but planning ahead can help control the costs. And, at a time when the emotional burden on our families and friends can be at its heaviest, it can help make them less vulnerable to incurring unnecessary or unwanted expenses. The financial toll on families can be enormous: a casket costs, on average more than $2,200 and initial cremation fees average more than $1,600.
More than three in 10 (33.2%) of us who had to meet the cost of a funeral in the last 12 months reported experiencing financial hardship as a result, and it took almost seven in 10 (69.2%) more than six months to recover financially - including more than 3 in 10 (31.1%) of us taking longer than a year to get back on our feet.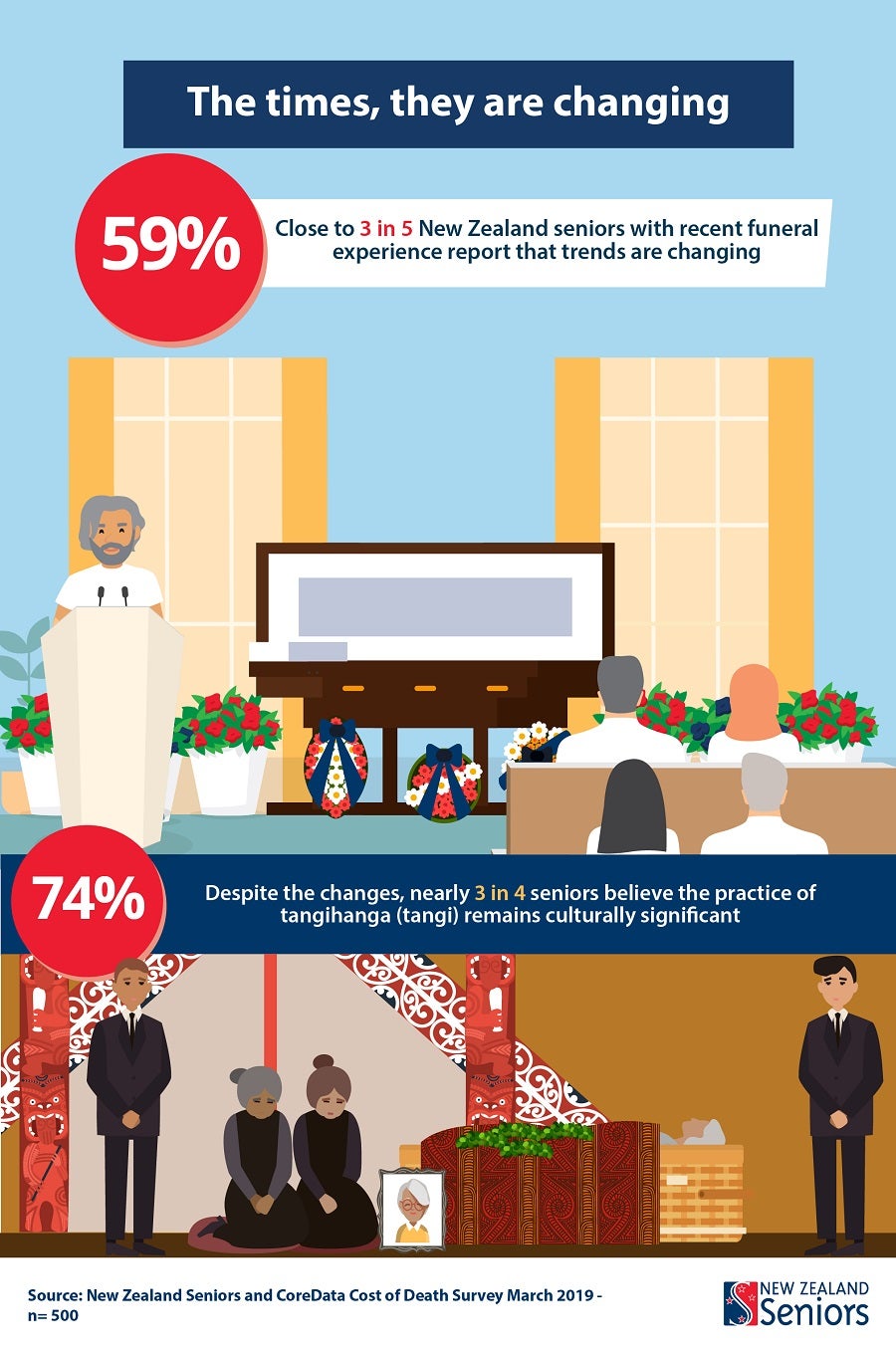 Funerals are evolving from the traditional, sombre events of the past to be more about the celebration of a life. They are more informal and more relaxed than they used to be and two-thirds of us (66.4%) say the funerals of today are more focused on being good-humoured, and less serious.
People are also becoming more environmentally aware, and almost 1 in 3 people (29.2%) feel funerals are now classified as "green" and consciously embrace environmental friendliness. Whilst we are seeing certain practices rise in popularity we're also seeing a decline in other areas with religious influence decreasing, mirroring a general decline across society. More than 9 in 10 (94.4%) of us believe these sorts of changes are here to stay.
The Tangihanga (tangi) tradition remains prominent, however. The majority of us (73.9%) agree or strongly agree that the practice remains culturally significant and that the practice has not declined in recent years.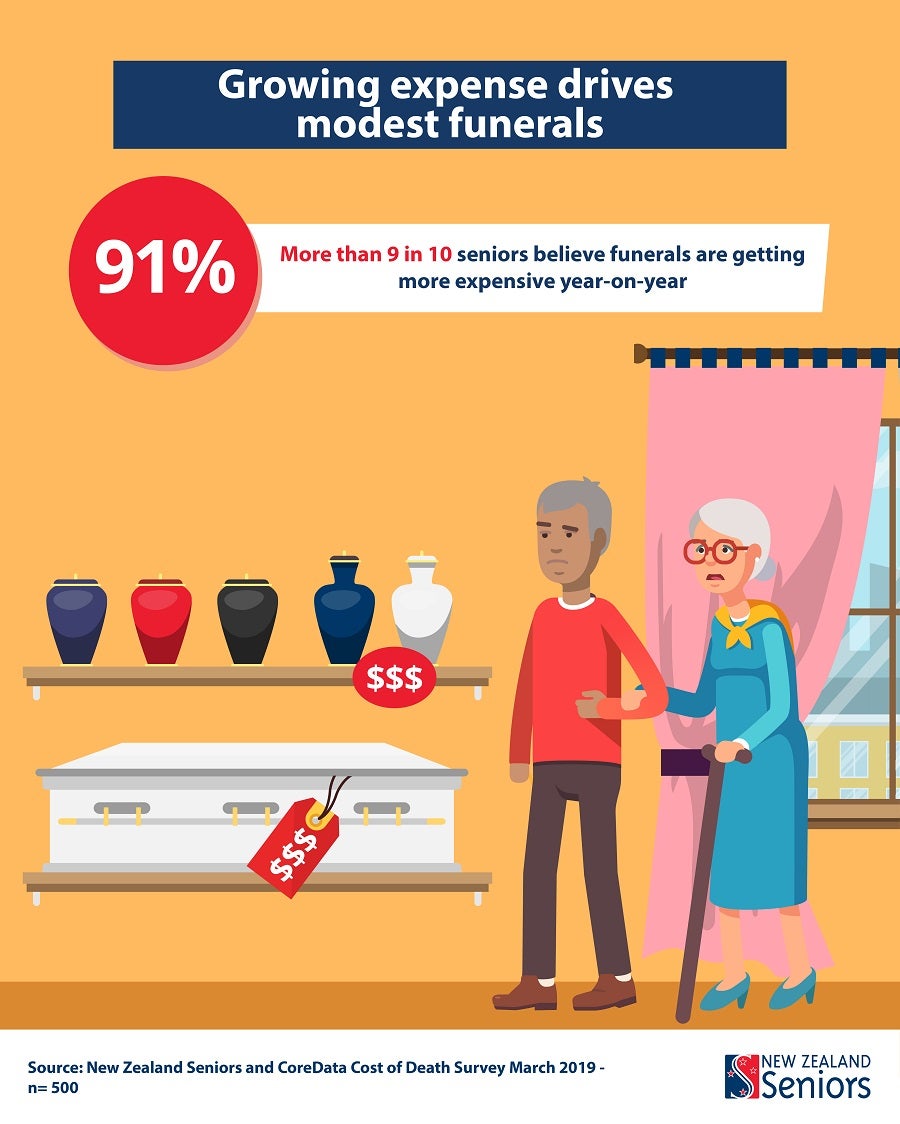 More than 8 in 10 of us (85.7%) believe the cost of funerals are rising each year, and a similar group of us (86.3%) believe these costs are rising faster than increases in the general costs of living. The average cost of a funeral, which exceeds $10,000, is generally (81.9%) considered to be too much. Therefore, we are looking for ways to make funerals simpler and less expensive. About a third of people (32.8%) believe that we should be paying for our own funeral. About the same proportion (32.5%) believe our partners should pay.
A funeral is inevitably an emotional event so we owe it to our loved ones to not make it harder than it has to be. Talking openly about our plans and wishes, and thinking ahead to what will need to be done on the day – who will do it, and who will pay for it – is the best way to make sure that when we depart our funeral is a celebration of the life we lived.
For further insights read the New Zealand Seniors Cost of Death Whitepaper
Find out more about the study in the Cost of Death Media Release
24 Sep 2019