Benefits of yoga and pilates for seniors: 50s, 60s, 70s, 80s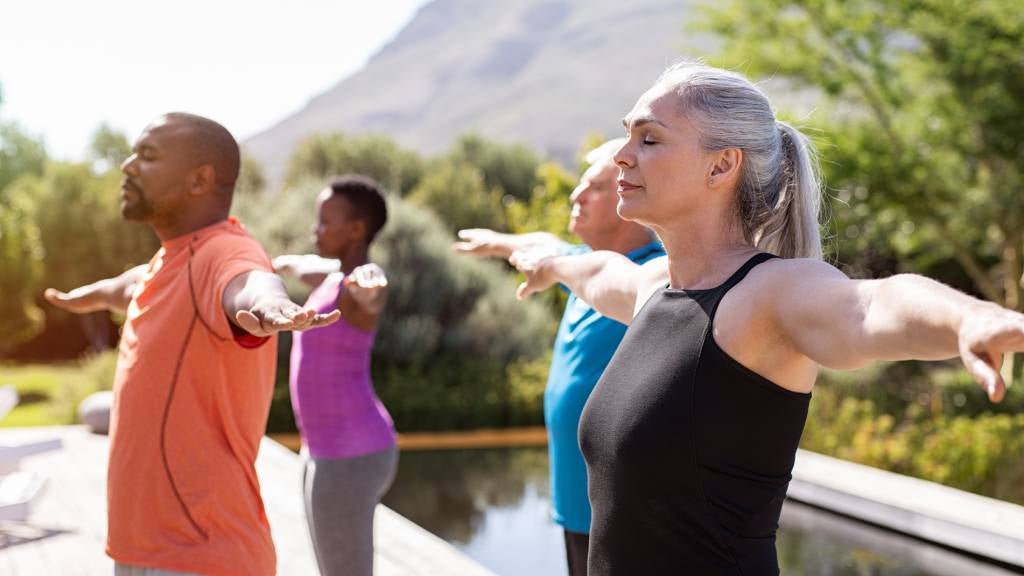 Doing daily sudoku, brushing your teeth with your left hand, eating piles of spinach, drinking 10 glasses of water on days ending in 'Y' – there are countless pieces of health advice aimed at those 50 and above, and most of it doesn't sound nearly as appealing as relaxing on the couch with a cuppa and watching M*A*S*H reruns.
The good news is that at least one of those pieces of health advice – trying yoga or pilates – is actually fun. And you can even do it while watching reruns if you like (extra points if you can sip your tea while doing the downward-facing dog).
Yoga focuses on breath control, meditation, and gentle exercise, whereas pilates focuses on muscular balance, rehabilitation, and light exercise. Speak with your doctor about which one is best for your needs, or try both and see which you like best (or see other exercise options for fitness throughout the years if they don't appeal to you at all).
Here's how yoga and pilates can benefit you through the decades.
The benefits of yoga and pilates in your 50s
By the time you hit your 50s, your body has probably already started to hit back at you. From the loss of flexibility you enjoyed in your younger years, to an achy back, many of us have started feeling the passage of time at this point.
Either way, these types of exercise can help to lower your blood pressure, improve your core strength, straighten up your posture, improve circulation, and maintain your flexibility.
In your 50s, yoga and pilates can essentially maintain your physical youth and overall health, to help to restore and alleviate past issues.
The benefits of yoga and pilates in your 60s
In your 60s, yoga and pilates is an excellent option for maintaining fitness and strength, but also a way to prevent future problems.
For example, people in their 60s become more prone to bone weakening and osteoporosis as they age, but exercise can help to ward off these issues.
Health Navigator highlights body-weight resistance training and "exercises to improve posture, balance, and body strength" as good strategies to prevent osteoporosis, and yoga and pilates certainly tick those boxes.
The benefits of yoga and pilates in your 70s
In New Zealand, those aged 70+ have the highest prevalence of heart disease, chronic pain, and arthritis, according to the Ministry of Health.
While your first port of call should always be your doctor, yoga and pilates may be part of an ongoing prevention and reduction plan.
To reduce your risk of developing heart disease, yoga and pilates can help to lower your blood pressure, keep you active, and maintain a healthy weight.
To ease the aches of chronic pain and arthritis, the smooth, flowing movements of yoga and pilates can help you to build strength and reduce inflammation.
The benefits of yoga and pilates in your 80s
In your 80s, any kind of exercise is a good kind of exercise, and yoga and pilates are gentle enough on the joints to be totally achievable, while still offering benefits for your strength and balance.
You might not be able to achieve the human-pretzel poses of your youthful 50s, but the precise ranges of motion of yoga and pilates may help to reduce ongoing pain, improve general health, maintain muscle and bone strength, promote flexibility, and keep you balanced.
Ultimately, yoga and pilates can help to keep you fighting fit so you can enjoy your retirement years with friends and family in health and comfort. And while you're looking out for yourself, you can also look out for them with Seniors Term Life Insurance.
10 Apr 2022