Why it's never too late to start your own business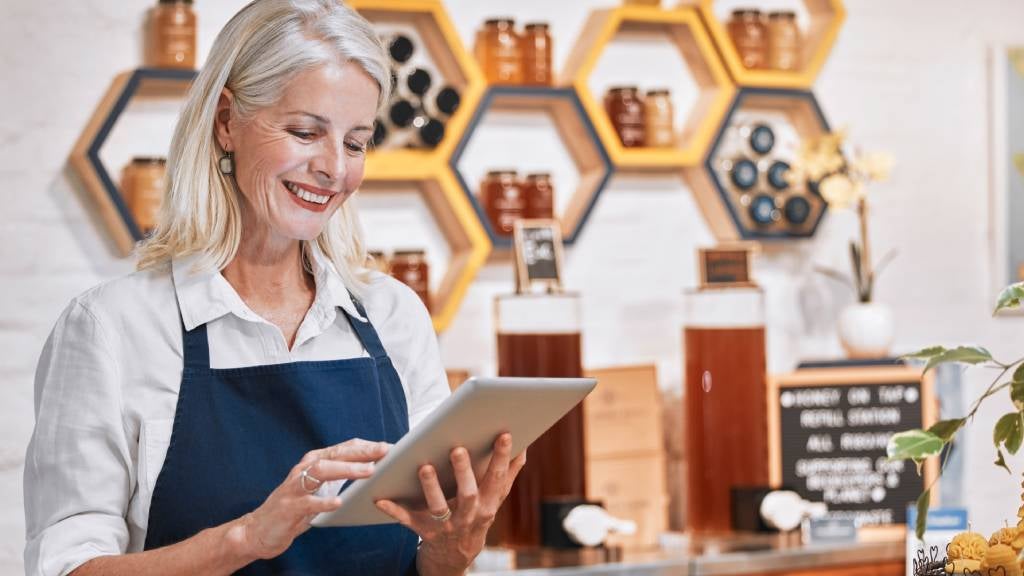 Did you know that Harland Sanders created KFC at the tender age of 62? Or that Arianna Huffington founded The Huffington Post when she was 55?
There are numerous examples of people who have made it big after starting businesses in their 50s, 60s, and beyond. Not only that, but new government initiatives such as the Senior Enterprise Pilot Programme have been launched to actively encourage older entrepreneurs to invest in their new endeavors.
So not only is it never too late – it might actually be better to start a business later rather than sooner.
In our own Working Seniors Report 2023, we found that many seniors were looking to delay retirement. For some, it was about maintaining a sense of purpose (59%), for others it was to avoid boredom (50%), yet the majority said that financial motivations were the top reason (81%).
But for those taking a leaf out of Colonel Sanders' book, that doesn't mean sticking it out at your old job – but creating your own.
How to start a business
Every business starts with a great idea, then comes the hard part of making the idea a reality.
Getting started typically involves a lot of research and planning, including:
Researching the current market
Researching the audience
Researching your competitors
Creating a business plan
Determining how you will stand out and market yourself
Determining how much cash you will need to launch
Determining where finances will come from to launch the business (Savings? A loan?)
Planning your brand strategy and brand identity
Registering your business
Building a website
Write a business plan
But what is a business plan you ask? It's an integral step in creating a business, largely because it covers many of the bullet points outlined above.
Here's what a business plan entails specifically:
An executive summary (a brief overview of the entire document)
A company description (your elevator pitch)
Your products and/or services (what you offer)
A full marketing plan (how will you get and keep customers)
An operational plan (how will everything run?)
The management and organisation (who will work for you, and what will their roles be?)
Expenses (a detailed account of where your money will go)
Financial plans (for the next year, three years, and five years)
Paperwork and documents (such as market research, contracts and leases)
A business plan can help to ensure you've covered all your bases before you dive in and give you a roadmap for how to move ahead.
A business advisor can be a great resource at this point to help you put a solid plan into place, especially if there are areas you're unsure about.
Business ideas for seniors
When starting a business in NZ, the key to success is finding your distinctive edge over the competition. It should ideally be something that fills a gap in the market, or perhaps offers something that's already on the market but in a new or different way.
Ideally, it'll also be something you're passionate about (or at least, really, really good at). Here are a few ideas:
Tutoring or teaching
Consulting in your career field
Garden landscaping and maintenance
Furniture refinishing
Tour guide
Online tools and programs for starting a business
Even if your business is all about physical work, the online marketplace could be where you'll do a lot of your marketing – and it's where you can do a lot of your planning and management, too.
You'll need to set yourself up on social media with a business page. This is where customers can find you, learn about your business, and contact you (it's a known truth that millennials despise phone calls).
You can also check out software solutions such as MYOB (Mind Your Own Business) or even Xero, which can provide software for Kiwi businesses for everything. This covers off payroll to supply chain management to invoicing.
Finally, be sure to check the government's page full of free tools for starting a business in NZ. It includes a tool for checking if the business name is available, options for funding, business plan templates, videos on interviewing for staff, checklists for seeing which laws apply to your business, and much more.
Consider all your finances
At New Zealand Seniors, we believe everyone deserves the peace of mind that comes with knowing their family has financial protection if the worst happened to you. With Seniors Term Life Insurance, you can rest easy knowing your family and the things you've worked so hard for, can still be looked after!
System.Collections.Generic.List`1[Kontent.Ai.Delivery.Abstractions.IMultipleChoiceOption]
17 Oct 2023