Best hot springs to visit in New Zealand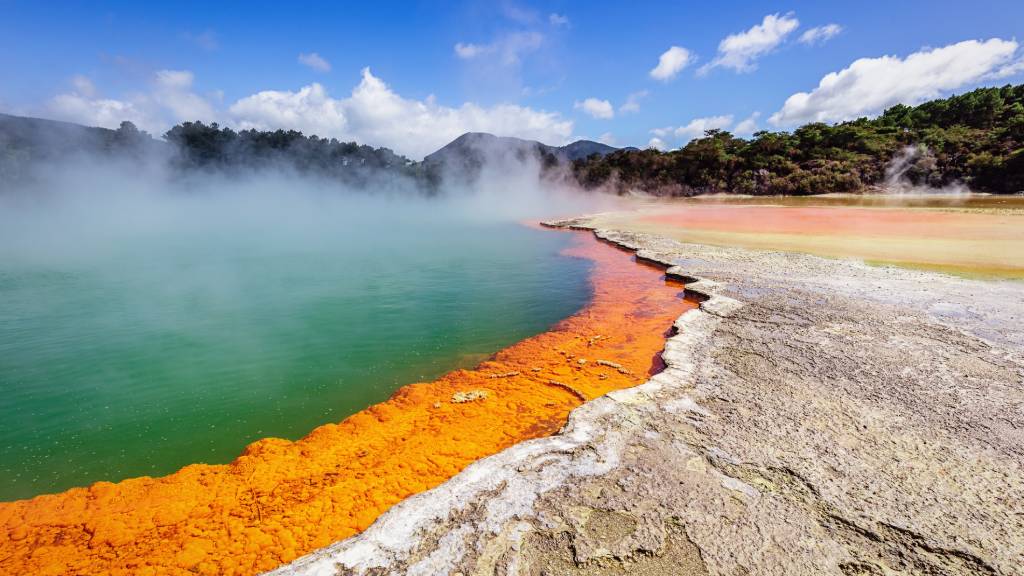 The best hot springs to visit in New Zealand
It's about that time of year. You know the one – when you dig into the bottom of the draw to find your fluffiest socks, delve into the back of the closet for your cosiest sweater, and say goodbye to the trusty jandals for another season.
The icy clutches of winter are making themselves felt in the early mornings already, and it won't feel like long before that chill lasts throughout the day.
But let's not be grim. The great news is that hot spring season is officially upon us. These wondrous gifts of nature don't just feel great — they actually offer health benefits, too. A good soak can boost your blood circulation, relieve pain, improve skin conditions, and carry your stress away with the steam.
Let's celebrate with five of the best hot springs to visit all over New Zealand this winter.
The Onsen Hot Pools, Queenstown
The craggy, snow-capped Queenstown Hill in the distance, the powerful Shotover River before you, and a galaxy of stars above you — it's hard to imagine a more picturesque spot for a soak than at the Onsen Hot Pools in Queenstown.
Pair that view with a few relaxing candles and the quietude of nature, and you've got an absolute must-do for this winter (and every winter, for that matter).
Hot Water Beach, Coromandel
How would you like a workout and a relaxing spa and a day at the beach all in one?
Hot Water Beach is one of New Zealand's must-visit places for tourists, which is why this winter is likely the best time to check it out — ever. With few tourists to contend with, you'll be able to head along with your spade and dig your own spa in the sand so you can relax in a natural hot pool right on the waterfront.
This is a great one to bring the grandkids along for. You'll get the credit for babysitting, and your back will thank you for it.
Polynesian Spa, Rotorua
For the full hot spring and spa experience, set the GPS for the spectacular scenery of Rotorua.
Here at the Polynesian Spa, you'll find no fewer than 28 hot mineral pools, which are fed by two natural hot springs. Take a dip in the stunning Deluxe Lake Spa, book a private pool, or look up with the Sky View private pool.
This spot offers the full service, so you can even sneak in a massage, facial treatment, or a geothermal mud therapy for the works. If you decide to pay for this, be aware that you may nod off and sleep through the whole thing. It's extremely relaxing.
Maruia Hot Springs, Lewis Pass
Tucked away amongst the towering peaks and lush rainforests in the heart of the Lewis Pass are the Maruia Hot Springs. These lesser-known hidden gems offer a gateway into the wilderness – without ever leaving the lap of luxury.
Perfect for an afternoon or evening after a morning hike, these hot springs bubble up from the ground filled with natural minerals at a whopping 56 degrees Celsius. But as this is a spa and not a lobster restaurant, Maruia Hot Springs cools the waters to a much more temperate 37 to 42 degrees Celsius.
Go all in with a meal and glamping pod stay for the full experience.
Hanmer Springs, Canterbury
Less than two hours from Christchurch, Hanmer Springs is the ultimate weekend getaway.
This destination has been built around the natural hot springs, creating an entire village surrounding the pools. There is a lap pool, a lazy river, private pools, rock pools, play pools, and plenty of gardens and rest areas to take a break from the water.
Outside of the springs themselves, Hanmer is a beautiful location with countless activities such as hiking, biking, and even a few adventure activities if you're up for it!
These hot springs are some of the best places in New Zealand to indulge in a little relaxation, rest, and peacefulness.
27 Apr 2021